Top 10: Movies Where Friends Fall In Love.
Since I'm not able to exterminate all the couples and love songs in the world while I'm all by myself and lacking, I'm trying to get into the mood.
Just kidding. I'm not a love hater, ok?
Well, actually, I LOVE ROMANTIC COMEDIES. They are fun, cute and at the end of the movie you think "why doesn't it happen to me?"
But there's one thing about romantic comedies that I really like: friends who fall in love for each other. And this is our Top 10 theme, ladies and gentleman!

10. Spiderman.

Peter Parker and Mary Jane Watson have a legendary relationship.
She, an aspiring actress, never noticed that Peter, a nerd, always loved her. Not to mention the relationship between Mary Jane and Harry Osbourne, Peter's best friend! Then, suddenly, Peter acquires super powers, which turns him into the Spiderman and he kiss the girl of his dreams.
Then Mary Jane find out that Peter = Spiderman, they get married and try to handle with all the problems that Peter's unorthodox profession bring forth.

09. Iron Man.



Pepper is Tony Stark's secretaire/housekeeper/manager/best friend.
Besides Tony's affairs and huge ego, she always helped him with his ideas. Oh, c'mon, she always loved him!
This is the only explanation for Pepper's attitude - she even helps Tony's affairs to get dressed, so...
This must be love.
08. Harry Potter.



You know that I'm talking about Ron and Hermione!
Since the 2nd movie I was sure they would be together at the end. The way she always corrected Ron in Sorcerer's Stone ("It's LeviOsa, not LeviosAR!"), how they compliment each other when Hermione came back from the ward in Chamber of Secrets and the way they quickly stopped hugging in Prisoner of Azkaban.
But nothing, NOTHING, can be compared to Ron jealous of Hermione and Krum in Goblet of Fire. So cute!
07. My Best Friend's Wedding.

Julianne and Michael are best friends (!!!!!!!!) and when Michael tells her that he's engaged, she notices that she's in love with her best friend!
Yes, just like... magic!
So Julianne tries to do everything she can (and what she can't too) to stop the wedding, because Michael IS HER PROPERTY. Nah.
The whole thing isn't about Michael and Julianne. Wake up, kids! It's all about Julianne and George, her OTHER BEST FRIEND who helps her all the time. Sh*t, did you never see this movie? I'M SO SORRY.
Anyway, I love the end of this movie. It's brilliant, it totally fits me.
Wait a minute. Is that a good thing or a bad thing?!

06. Made of Honor.



No, this movie isn't better then nº 08.
This list isn't about which movie is better, is just a list. Got it? I know you did.
When I first saw Made of Honor I thought "Well, are they really trying to steal "My Best Friend's Wedding" idea? I mean, REALLY?" but I was (half) wrong.
Tom and Hanna are (I bet you don't know what I'm going to say) inseparable friends. But when Hanna came back of Scotland, just when he concluded that Hanna is the woman of his life, she's... Engaged! And she asks Tom to be her maid of honor!!
So Tom's friends help him to be the best maide of honor ever.

05. Valentine's Day.

Ok, this one really surprised me.
Actually, I felt in love with the cast at first side. I absolutely love every one of those actors!
This movie shows some unexpected love affairs and relationships while it's Valentine's Day. But let's take a look at Julia and Reed - best friends with broken hearts and... TA-DA.
A couple!
Lovely, lovely, lovely.
05. The Ugly Truth.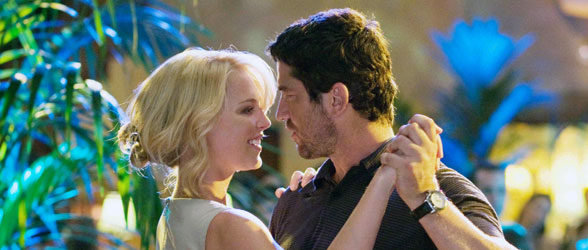 I was thinking if this movie is really about friends in love and the conclusion is yes. At first, Mike Chadway and Abby Richter hated each other. Well, to be honest, Abby hated his arrogance and prepotency (and the fact that he were always right about everything she was doing with her own life). But when he begin to work with her ??and offers to help Abby seduce her neighbor, they become friends.
Obviously, Mike realize that he doesn't want Abby to be with another guy instead of himself.
If you haven't seen this movie yet, darling, you better do it.
Quickly.
04. Win a Date with Tad Hamilton.



You can say whatever you want to about this movie, but it is cool.
It's funny to see how a movie star can actually screw up with all of Pete's plans with Rosalee.
This movie seemed so "this can be true" when I saw it for the first time, but then I woke up and realized that things like your favorite actor wanting to marry you are really improbable to be real.
When it's about me, get married with movie actors are impossible, not improbable. So...
Pete is cute. I would totally dump Tad Hamilton, MY FAVORITE ACTOR EVER, to be with my best friend. I mean, totally.

03. Ghosts of Girlfriends Past.



It doesn't matter if Connor and Jenny were together in the past. The fact is they always were best friends, and when Connor's brother is about to get married and Connor is his best man, everything ends up like a disaster.
That's why the ghost of Connor's ex-girlfriend appears to show him that love exists - and his true love is Jenny!
Lovely movie. Made me laugh really hard.

02. 13 Going on 30.



Why is Jennifer Garner always involved with best friends love?
And why does this fits her so well?
The fact is, when Jenna wakes up as a 30 y/o woman, sees herself in the future and realizes that her true love, Matt, isn't her best friend anymore, she starts a revolution in her own world.
And she sings Cindy Lauper and dances MJ's "Thriller". THAT'S WHAT I'M TALKING ABOUT.
Good cast + funny history + magic dust = passion.

01. When Harry Met Sally...



Here's our #1 movie where friends fall in love with each other.
Harry and Sally are friends for years, but when both are searching for love and it is a total disaster for both of them, they keep on thinking "Well, can a man and a woman be friends, without sex ruining the friendship?"
My opinion is: YES. Men and women can perfectly get along without having sex. I mean, people will talk that you're dating and will ask you when did you get a boyfriend and stuff like that. It's such a waste of time to keep on explaining to everyone that YOU GUYS ARE NOT DATING!
Anyway, Harry and Sally are soul mates. Please, don't think this is a movie made for girls, because it isn't.
Great movie, great history, Meg Ryan and Bill Crystal? <3 <3 <3 <3
You'll
♥
Loading related posts from sailthru...